Author's Note: I curated the information below on Learni.st but the domain vanished and the many powerfully curated topics ceased to be readily available. I have chosen to repost my curated information here.
How sexuality and gender identity influence ministerial calling.
Since 1969 a vibrant Christian community has grown within the LGBT community. This subset of Christians has experienced rejection by much of the church and by much of the gay community. How do those called to the ministry experience this double rejection and what drives them to accept the ministerial vocation?
The following content was previously housed on Learni.st but that site abruptly ceased to exist. I am hoping to recreate the curated series here.
Personal Reflection
I once heard on the radio that Randy Carlson gave his life to Christ at Bible Camp when he was eight. He said he had to admit the cookies had a lot to do with it. I was not quite seven when I went to the front at church and gave my life to Christ. Unlike Randy, there were no cookies involved, only my love of Jesus. Yet, years later because of my sexuality, the Church seems to believe that God lied when he said in John 3:16 Holman Christian Standard Bible (HCSB)
16 "For God loved the world in this way: He gave His One and Only Son, so that everyone who believes in Him will not perish but have eternal life." (emphasis mine)
Parents are expected to know whether their children are ready or not. Mother tells me she was scared by my response that I wanted to go live with Jesus. I don't know if she thought I was planning a suicide attempt or predicting a tragic accident but she took me seriously and I was baptized the first Sunday in February, just weeks before I turned seven.

I knew I had work to do for God. From seven on I learned everything I could about the Bible, memorizing verses and applying their truth to the problems a child faces. At twelve I began to play music for the Sunday school and not long after to direct the children's choir. The children, not much younger than I was, learned what the words meant as I translated from adult speak to kid speak on the fly.

At fifteen I presented the meditation in Adult Sunday School, my first adult teaching / speaking opportunity. Everything I did was in preparation to minister the gospel of Christ. I slowed down a bit when I realized there were no female preachers in our church. But I didn't give up and I became one of the first female trustees in our congregation. I still remember the feeling of honor and reverence I experienced each 1st Sunday when we stood to receive communion from the pastor's hand with the deacons who had served the rest of the congregation.

Things were moving in the right direction when I realized I had fallen in love with a woman. The church I grew up in was changing gradually. Slowly women were beginning to take on spiritual roles. But this was a step I knew my congregation wasn't ready for. And I didn't know of another church that would nurture my desire to serve, either.

At twenty-nine years old I learned that the two communities I held most dear, the black Christian church and the LGBT community could not, would not accept the entirety of me. To the church I was a sinner so I kept my sexuality in the closet. To the Gay community the church was abusive and I would have to be crazy to go anywhere near a God that hated me (based on church messages) so much.

Still I loved who I loved and I could not turn my back on the God who loved me! At first my path involved walking two paths simultaneously. I sang in church, took my children to the Christian school and described my soulmate as my roommate, by day. On the weekends I donned my other persona and hung out at the bar to be in the company of people who accepted our same gender relationship. In this setting I learned how so many LGBT individuals find themselves alcoholics. Pushed into socially isolated groups many didn't know what was happening until it was too late to stop on their own.
It took time for me to unify my being. It took time to become one whole person instead of two broken persons. But gradually, standing on the truths I learned when I was just a child, I began to realize that I have to be myself and I have to share with other people the truth I believe, that:

"God loves you just as you are!"

*****

My herstory is a tapestry of music, disability and social sciences. My experience has included service delivery in nonprofit and educational settings, as well as work with large systems change projects involving community and education partnerships. As a scholar/practitioner I coach students, facilitate graduate education and consult with executives. My experiences in service delivery, organizational development, community leadership and organizational behavior inform my research interests which are: spirituality and leadership, universal design, capacity development and diversity.

Now I find myself in a place where the intersections of my life have brought me to this place, this time and this work. I was asked to speak of my research and activism.

I am a sociologist through and through. I am captivated by human and organizational systems, using both systems theory and structural inequality to understand what I see around me. This is not because I see hopeless barriers but because my research focuses on trauma and transcendence. I believe that if we can see a better existence we can make it happen.

In every instance where trauma has been experienced there are people who have found a way to come back from and rise above that experience. My research on the experience of Mothers of special needs children was an attempt to understand the shell shocked look in the eyes of parents at an early intervention program. My exploration of LGBT Aging Transitions highlighted for me the fact that the lowest rung on the social security aging spectrum is African American single women, often women who loved women but were not permitted to marry. Until same-gender marriage became legal this described me.

My current research, LGBT Spirituality and Leadership asks: "What is the intersection of leadership, spirituality and self-identification as LGBT in engagement of ministry leadership roles?"

The early church welcomed a gay man.
http://www.wouldjesusdiscriminate.org/biblical_evidence/early_church.html
History rewritten as a means of control. The control of women was institutionalized in the church by the declaration that marriage was only for the purpose of procreation. This edict eliminated relationships based on love alone, regardless of gender. It marks a return to the legalistic practices of the centuries B.C. Arranged marriages could be used as treaty agreements and territorial unifiers were approved and consolidated by the elimination of mere emotional connections. Hence the double suicide of Romeo and Juliet, prevented from being together because they did not want to be parted by contractual arrangements. Homicide and suicide are one result of spiritual repression.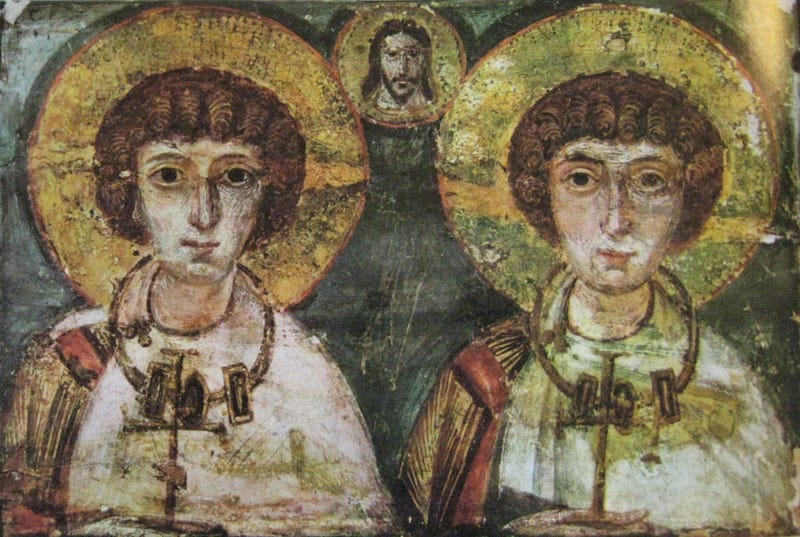 Should Christian Churches allow the ordination of gay and lesbian priests?
http://www.debate.org/opinions/should-christian-churches-allow-the-ordination-of-gay-and-lesbian-priests
Popular votes are against this practice but they are not based on Biblical fact. Instead they are based on relatively new cultural norms and prejudices. The comments on this page present arguments without support and misinformation and misniterpretation of scripture because the writers have not truly learned what God's word says.
Overlapping Histories Show the Hunger for God in the LGBT Family
LGBT History Timeline
http://www.ucc.org/lgbt_lgbt-history-timeline
History of MCC
"In 1968, a year before New York's Stonewall Riots, a series of most unlikely events in Southern California resulted in the birth of the world's first church group with a primary, positive ministry to gays, lesbians, bisexual, and transgender persons." Retrieved 03/26/15 from http://mccchurch.org/overview/history-of-mcc/
Institutionalized Hatred
Through a process that began in the 13th century the church has created barriers to vocational calling, prohibitions against loving relationships and condemnation to hell for gay and lesbian individuals. Many laws have only addressed male relationships but the vilification raised by the church created a climate in which legal sanctions and outright discrimination resulted.
Westboro Baptist Church
A history of anti-gay hatred
Before it began picketing the funerals of soldiers, the Westboro Baptist Church (WBC) was best known for picketing the funerals of gay people or those they perceived to be gay. In 1998, WBC members set off an angry reaction nationwide when they showed up at the funeral of gay murder victim Matthew Shepard and held up signs saying "No Fags in Heaven" and "God Hates Fags." According to a WBC Web site, they claim to have staged over 40,000 total protests over the years in more than 600 cities across the United States and internationally in Canada, Jordan, and Iraq since 1991.
The WBC continues to target productions of "The Laramie Project," a play about Shepard that was subsequently turned into a movie, and to denigrate him and his memory. For example, the group's announcement in October 2009 of pickets of several California productions of the play included the quote, "Matt Shepard has been in Hell now for eleven years with eternity left to go on his sentence… All else about Matt is trivial and irrelevant." These pickets are often staged at high schools that perform the play, and regularly generate significant counterprotests.
While the WBC has picketed the gay community at hundreds of events nationwide, most of the individuals the church has targeted are not homosexual.
Retrieved on 03/26/15 from http://archive.adl.org/learn/ext_us/wbc/anti-gay.html?LEARN_Cat=Extremism&LEARN_SubCat=Extremism_in_America&xpicked=3&item=WBC
[This site is no longer available].

The Good News Prevails:
LGBT in the Church
"In 1976, the General Convention of the Episcopal Church declared that "homosexual persons are children of God who have a full and equal claim with all other persons upon the love, acceptance, and pastoral concern and care of the Church" (1976-A069(link is external)). Since then, faithful Episcopalians have been working toward a greater understanding and radical inclusion of all of God's children." Retrieved 03/26/15 from http://www.episcopalchurch.org/page/lgbt-church
On Tuesday May 10, the Presbyterian Church (U.S.A.) joined a group of mainline churches that has opened the door to gay ordination. – S. Donald Fortson III/ MAY 12, 2011
http://www.virtueonline.org/road-gay-ordination-presbyterian-church-usa

The Debate Continues
Ordination of LGBT Christian clergy – WIKIPEDIA
Messages to and from the LGBT Christian Community
Faith Positions
"Religion has been a source of both solace and suffering for many lesbian, gay, bisexual and transgender Americans. For while most LGBT Americans have been raised in an organized religion — and many continue to cherish their faith community — too many have been forced to leave those communities behind because of condemnation of LGBT people.